Thank you to our Platinum Sponsor IMACS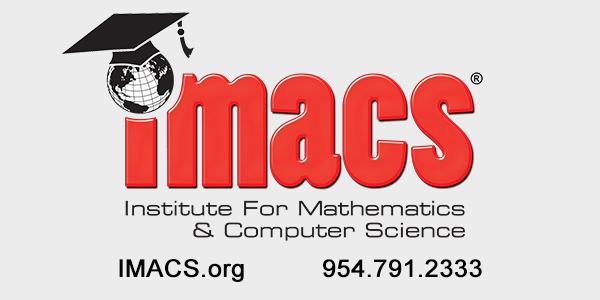 The Institute for Mathematics and Computer Science (IMACS) offers after-school and Saturday enrichment classes that are fun, challenging, and will help your daughter or son become a better thinker for life. Try a free class! http://www.imacs.org/freeclass
Take your child's logical reasoning and STEM skills to the next level! The Institute for Mathematics and Computer Science (IMACS) has been combining serious academic benefits with fun and excitement for the past 25 years with our carefully crafted classes and expertly trained instructors.
We give girls and boys a competitive edge by teaching them how to think critically in a fun environment. Math enrichment classes offered for grades 1-6. Computer programming and computer science classes offered for grades 5-12.
Weekly After-School and/or Saturday classes in Weston, Plantation and Boca. Call 954.791.2333 or visit www.imacs.org/freeclass to schedule a FREE Class. Sign up today to give your child the IMACS Advantage!